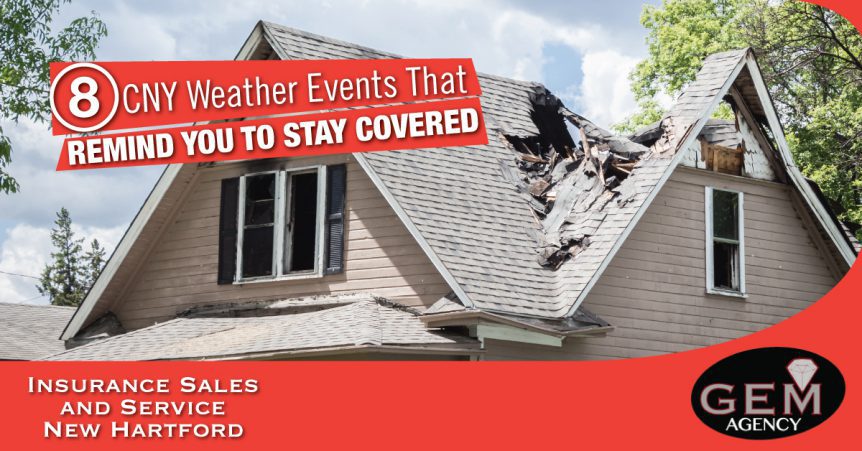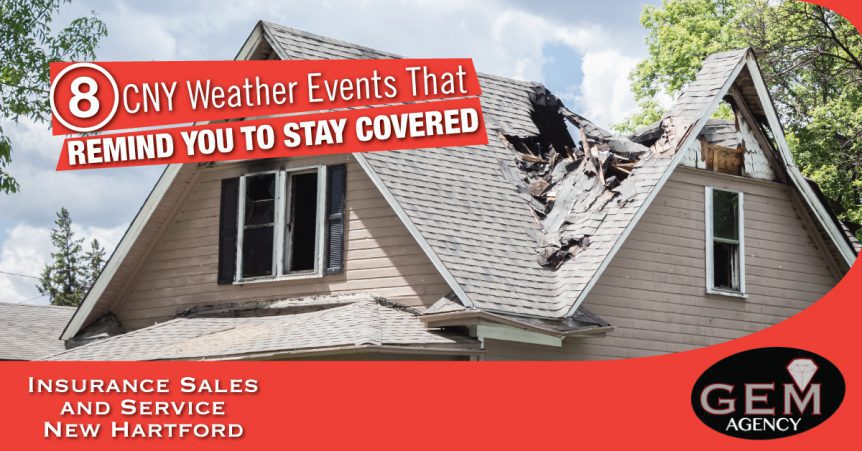 Central New York natives will tell you that the weather here in the Mohawk Valley is anything but predictable. From unseasonably warm temperatures to unexpected snowstorms, we often feel ready for anything. Unfortunately, some weather also has lasting effects on the area and our property. From snowstorms that leave vehicles buried, to flooding and microbursts, Central New York sees its fair share of devastating weather. It's during these times that we want to focus on the safety of our families and neighbors – not worry about whether or not our insurance coverage is sufficient.
Along with WKTV meteorologist Bill Kardas, we've compiled a list of the most significant weather events to happen here in the Mohawk Valley over the years.
A White Christmas Storm to Remember, 2002
The Christmas season is a time for celebration and family… but what happens when you're hit with upwards of 20″ of snow? Central New Yorkers were left digging themselves out on this holiday in 2002.
Tornado, July 2014
Fortunately, the Mohawk Valley hasn't been known to see very many tornadoes. However, when they do make their way through the region we are left picking up the pieces… literally. In 2014, Central New York was hit with on the most dangerous tornadoes for our area to date, leaving behind a mess of damages.
Flooding, July 1st, 2017
On July 1st, 2017, the Mohawk Valley was hit with perhaps one of the most devastating floods to come through the area. Seemingly out of nowhere, Utica's streets filled with water, forcing civilians to abandon their waterlogged vehicles.
Winter Storm Stella, March 14, 2017
2017 was a record year for weather in Utica in more ways than one. Winter storm Stella hit the city on March 14th and left behind a blanket of snow that would cover the area for days to come. In total, Stella brought upwards of 33″ of snow, breaking the city's previous record of 31″ set in 1966.
Labor Day Storm, 1998
In the early morning hours of Labor Day in 1998, Central New York was hit with a fierce thunderstorm. The storm devastated the community. Its 115 mph winds left 200,000 people without power and caused thousands of dollars in damage.
Mohawk Valley Flooding, 2013
Over the course of several days in midsummer 2013, a series of severe thunderstorms dropped between 2 and 6 inches of heavy rain on the Central New York area. Governor Mario Cuomo declared the region a disaster area as rivers and creeks, like the Oneida Creek in Oneida, were past crest levels, flooding and washing out roads throughout Chenango, Herkimer, Madison, and Oneida County. The heavy floods left behind significant damage to roadways, vehicles, and homes, even forcing some individuals to evacuate into emergency shelters.
Mohawk Valley Flooding, 2006
In June 2006, the Mohawk Valley and much of Western New York was hit with days of consistent heavy rain. At the time, the rainfall totals were higher than anything ever experienced in the area. The flooding left many roads abandoned, properties damaged and residents wondering what their next move would be.
Flooding from Tropical Storms Lee & Irene, 2011
Tropical storms Lee & Irene hit our nation in the late summer of 2011. The two storms together caused severe damage across the North East with damages totaling upwards of 1.6 billion dollars.
How Is Your Insurance Coverage?
It's hard to say when the next weather tragedy will strike our area, but one thing is for certain… before the next storm rolls in, you will want to not only make sure that your family is prepared, but also that your assets are fully protected.
Call Gem Agency to discuss your coverage options at 315.735.1771 or, visit us online at www.insurewithgem.com