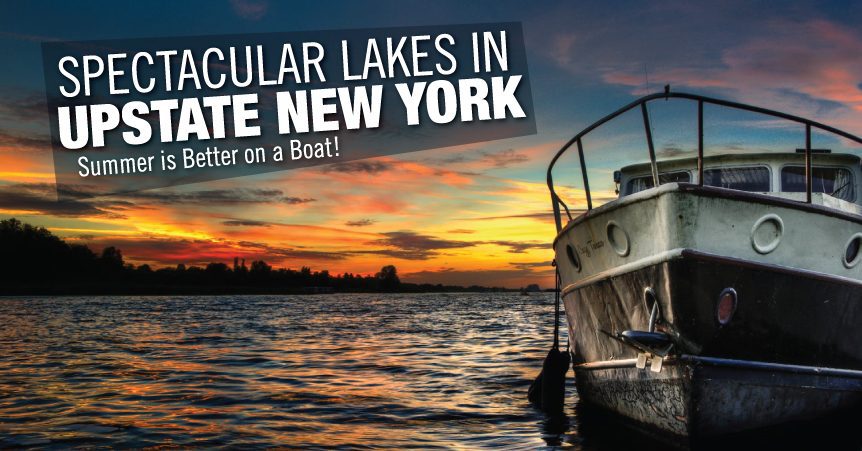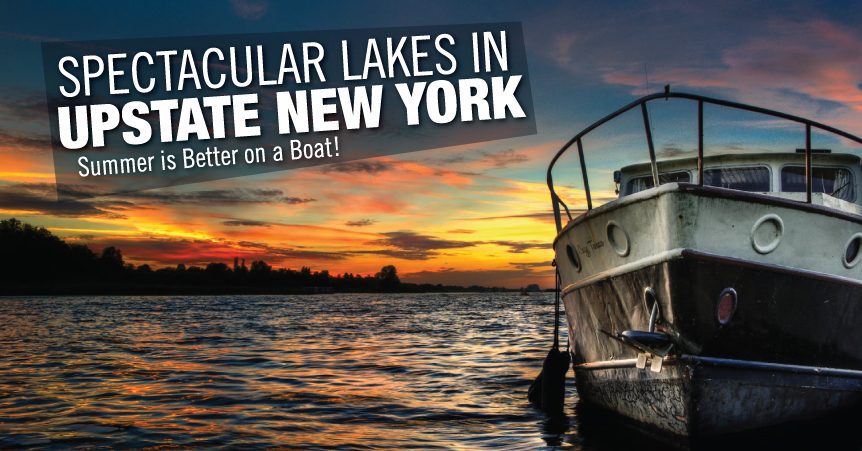 Summer has finally arrived in Upstate NY- and that means plenty of barbeques, beach trips, and, of course, heading out to some most beautiful lakes in the country. Whether you're looking for  the ideal spot for a long boat ride, a quick day trip, or an extended family vacation, here are some of our favorite Upstate NY lakes to visit. All are open to the public and offer miles waterways and beaches, so pack up and get ready to enjoy those summer trips to the water that you've been waiting all winter to do!
---
Lake Placid — Known for hosting the Winter Olympics- not just once, but twice! If you enjoy spending time on the water, this spot is filled with hundreds of miles of lakes, ponds, and rivers fit for fishing, paddle boarding, motor boating, rafting, and more. Walking and biking are always options to explore the area at a slower pace. Bring food for a family picnic, or delight in the surrounding cafés and restaurants, offering Italian, Mexican, and Vegetarian-friendly cuisine.
Launch sites: (D) – Essex County. Off Route 86 in the Village of Lake Placid on Mirror Lake Drive. Hard surface launching ramp. Accessible. Parking for 25 cars and trailers.
---
Saranac Lake — Head to Saranac Lake, a small town just 8 miles Northwest of Lake Placid. This is the perfect place to kick back and relax on the boat enjoying the views, or to explore what this special destination has to offer: mountains, history, and shops. Only have time for a day trip? A 30-minute moderate climb up Mount Baker will leave you with a view overlooking the entire village, giving you time to choose which local craft brewery or cool eatery you want to try.
Launch sites: http://www.saranaclake.com/activities/outdoor/boating
---
Cayuga Lake — A visit to Ithaca, NY won't disappoint.  This thriving college town offers culturally diverse restaurants, shops, and stunning hiking trails perfect for the whole family. Love local food? This is the place! If you're there on a weekend, don't forget to stop by the Farmers Market. Launch your boat into Cayuga Lake to catch some rays and soak up the natural beauty!
Launch sites: https://www.dec.ny.gov/outdoor/23908.html
---
Canandaigua Lake — Local life, architecture, artists, fishing, and ice cream are just a few things for your getaway to the Finger Lakes! Make memories with your friends and family at Kershaw Park right by the Lake. There's a playground, sandy area, clean water for swimming, and even free barbecue grills for your use. If you need a change of scenery and love a taste of history, take a tour of the gorgeous Sonnenberg Gardens & Mansion State Historic Park.
Launch sites: https://parks.ny.gov/parks/3/details.aspx
---
Canadice Lake — Just south of Rochester, NY is the smallest of the Finger Lakes. This lake brings a more peaceful getaway including secluded fishing spots for smaller boats (stocked with trout) and undeveloped shorelines offering a serene atmosphere away from all the hustle and bustle. Fun fact: Canadice Lake has also provided drinking water to the Rochester area for over 100 years!
Launch sites: https://www.dec.ny.gov/docs/fish_marine_pdf/hemcangenrivbls.pdf
---
Before you go have fun in the sun, it's always important to make sure your boat is fully insured. Gem Agency also offers plans for all your recreational vehicles. Contact us to request a quote today!